When it's time to get a roof replacement for your home, you have many decisions to make. When should you schedule the work? What's your budget, and what do you hope to get out of your new roof?
One of the biggest decisions you'll make is your choice of roofing material. You need to weigh the importance of several factors, including:
Your aesthetic preferences

The affordability of the product

Maintenance requirements

Your climate
Homeowners in the Sunshine State must keep all these things in mind when deciding whether it's better to install a metal roof vs a tile roof in Florida. To help you out, we've listed the key attributes for each type of roof below, as well as their suitability for the Floridian climate.
Main Characteristics of Metal Roofs
Most conversations about metal roofing for residential properties center around standing seam metal roofing. This type of roof is made from panels designed to cover their fasteners to increase both the lifespan and attractiveness of the roof. Metal panels can be left to look like sheets of metal, or they can be shaped to emulate the appearance of shingles, shakes, or tiles.
Most metal roofs are made using one of the following materials:
Stainless steel

Galvanized steel

Copper

Zinc

Aluminum
Metal roofs have been used for centuries and are well-known for their durability and longevity.
✅ Pros
Depending on the type of metal you use for your roof, it should last you at least a few decades, and some metals will easily last over a century! Part of why these roofs have such long lifespans is that they are incredibly durable; they're very resistant to winds, heavy rains, fire, and impact. They also require very little maintenance to stay in good condition.
Metal roofs are also eco-friendly. Nearly all the materials used to install this kind of roofing system can be recycled once the roof has reached the end of its lifespan. You can even purchase roofing materials that are already recycled.
In addition to the eco-friendliness of the material itself, a metal roof is a great option if you're looking to build a cool roof on your home to decrease your home's energy needs.
Finally, metal roofs are super versatile, and they come in a variety of styles and colors. They work on both low-slope and steep-slope roofs, so you don't have to worry about whether your roof will be able to shed water when it needs to.
❌ Cons
Even though metal roofing holds up well against structural damage that could be caused by hail, it is likely to dent if it experiences significant impact. This won't affect the functionality of your roof, but it will affect the appearance. Oil canning is also an aesthetic concern if metal roofing isn't properly installed.
Additionally, this roofing material can be expensive to purchase and install. Expect to pay anywhere from $4 to $40 for labor and materials, depending on the kind of metal you use.
The final concern with metal roofing is specific to Florida and other coastal climates: metal roofs are known to develop rust over time. You'll need to inspect your roof once or twice a year for signs of rust and, at the first signs of corrosion, call a roofing contractor for repairs.
Main Characteristics of Tile Roofs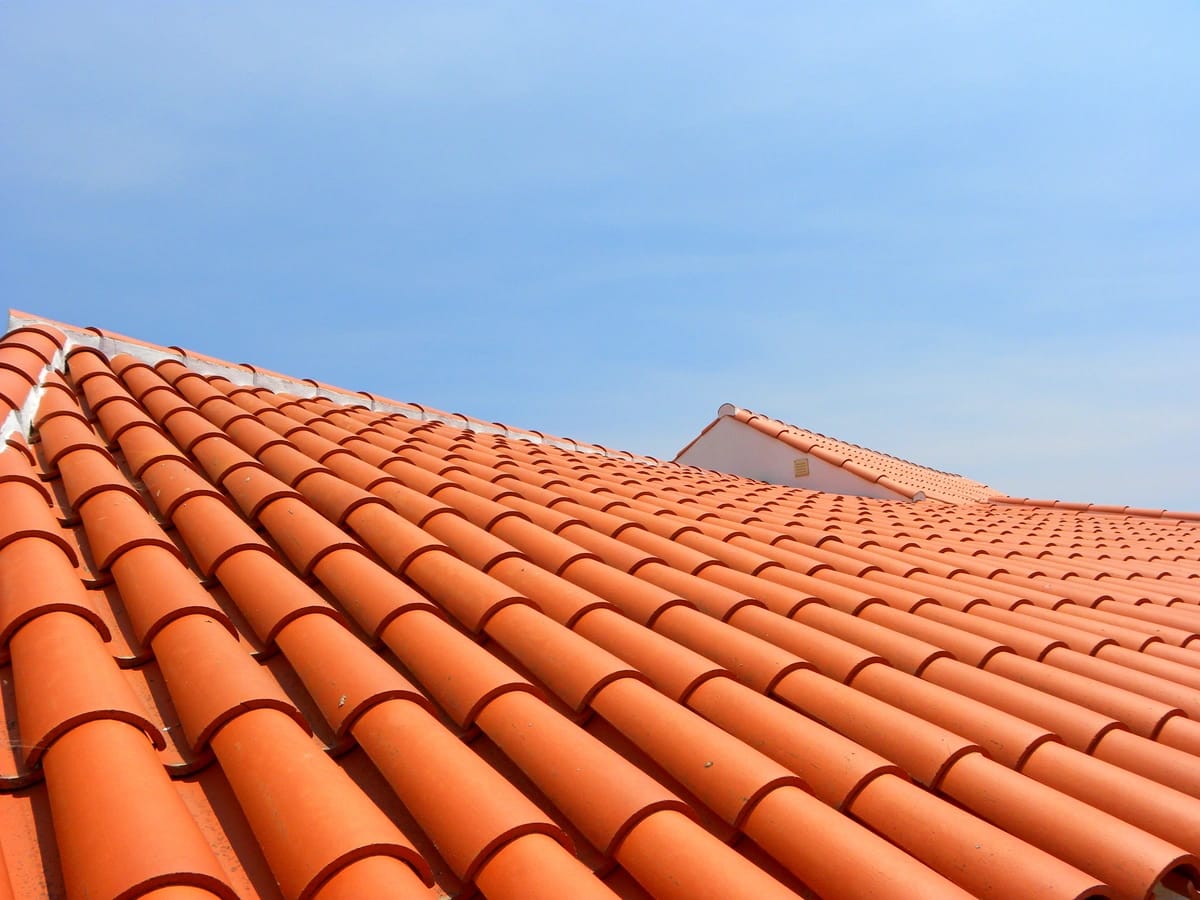 Clay tiles have also been used for roofs since time immemorial. Under the right conditions, they're known to last a century or more and often come with a 50-year manufacturer warranty.
In recent years, concrete has also become a popular option for use in tile roofs.
✅ Pros
Both clay and concrete tiles are incredibly energy efficient. When they're installed on the roof, the way the products are manufactured means that there is a natural air bubble between the top roofing materials and the other layers of the roof. This air insulates and keeps the home cool during the hot summer months.
These roofing tiles are also made from renewable resources, which makes them the most eco-friendly products on the market. They're relatively easy to produce, the materials are abundantly available, and they are completely recyclable at the end of the roof's life. Clay and concrete are also fire resistant; they carry some of the highest fire resistance ratings available on the market.
In terms of aesthetics, a tile roof is a great choice. Especially in Florida, clay and concrete tiles fit well with most styles of homes in the area.
❌ Cons
Unfortunately, although clay stands up well to wind and rain, it is susceptible to shattering from impact damage. Both clay and concrete are also heavy materials, so you'll need to ensure that your home's foundation can carry the weight.
While concrete tile roofing costs about the same as most metal roofing options, clay tiles are more expensive. Both kinds of tiles come with higher installation costs than metal roofing because of the complexity of the task.
Lastly, you must have a sloped roof to use tile roofing. If the slope isn't steep enough, you'll end up with pooling water on your roof, and water leaks in the future. If you have a low-slope roof, your contractor will probably suggest you use two layers of underlayment below the tile, further increasing the cost of your new roof.
Metal Roof vs. Tile Roof in Florida: Which to Choose?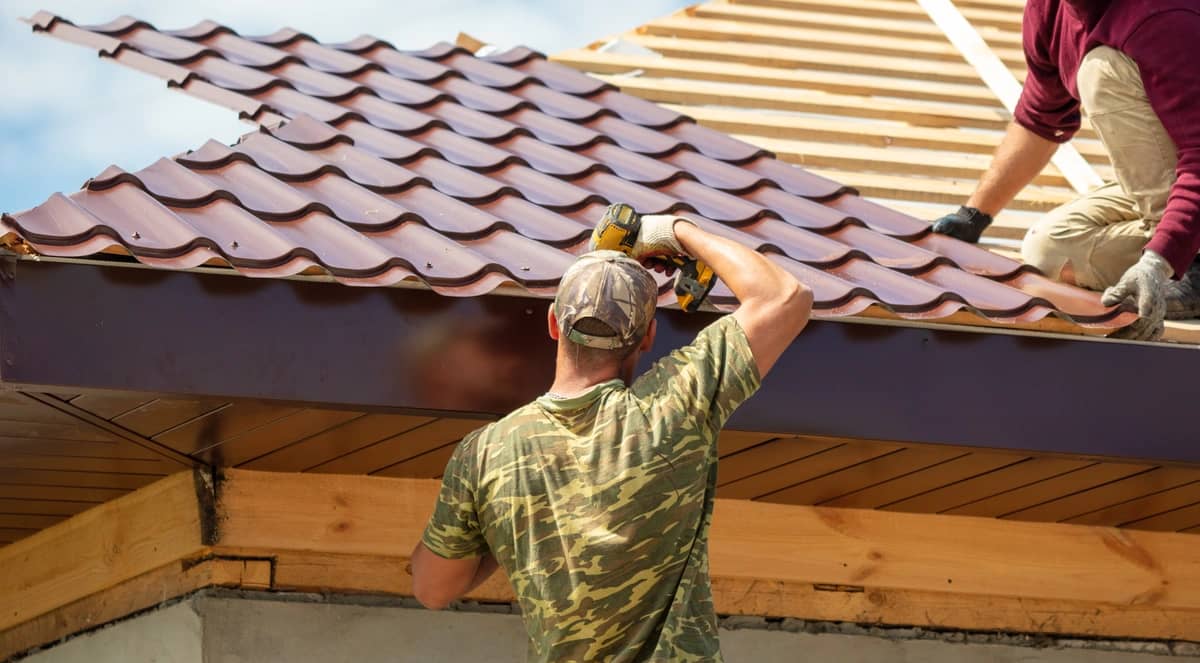 Florida lies in the humid subtropical climate zone, which means that it has hot and humid summers and mild winters. The state has a five-month hurricane season, which comes with risks of high winds, floods, and storm surges.
This all means that you need your roof to absorb heat without conducting it into the house. You will also benefit from a roof that withstands storm damage well. While both tile and metal roofing will get the job done, a concrete or clay roof seems slightly more up to the task.
However, if budgetary concerns keep these roofing materials out of reach for you, metal roofing systems aren't a bad choice. In the end, the best choice is the one that meets your needs!
Get a New Roof Today
As you can see, there's a lot that goes into determining the merits of installing a metal roof vs a tile roof in Florida. While both metal roofing and tile roofing have their upsides, a tile roof may be the best choice if it fits your budget.
At GreenTek Roofing & Solar, we make it our business to help you afford the roof of your dreams. That's why we offer multiple financing options with easy applications that don't impact your credit score. Contact one of our representatives today to discuss your options!