Hurricane season is upon us, and every year we hear of the damage sustained by residential and commercial properties throughout the state:
Fallen trees and damaged landscaping

Broken limbs on bushes and trees

Windows cracked or shattered

Flooding and other water damage

Shingles bruised, torn, or blown off the roof
For the last item on that list, you'll need a professional roofing contractor to help you with a permanent fix. But waitlists can be long, especially in the wake of severe storms. If you do nothing to protect your roof, you run the risk of allowing leaks and subsequent structural damage to enter your home.
If the damage to your shingles is minor, you can get away with a DIY roof repair until a contractor can provide you with a solution for good. Below, we've laid out our step-by-step guide for homeowners on how to repair blown-off roof shingles on your own.
1. Assess the Damage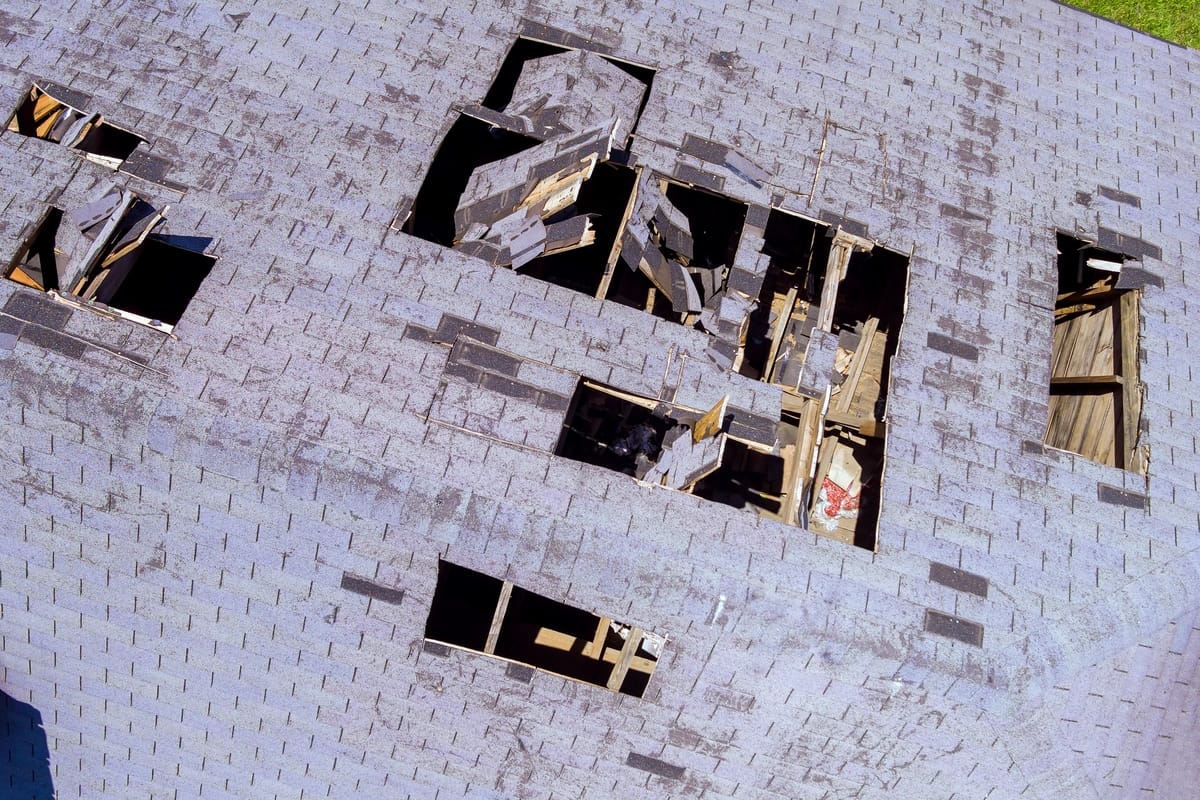 Figure out how widespread the shingle damage is on your roof. If it covers a large area, proceed with tarping your roof instead of attempting repairs on your own.
Document all shingle damage on your roof and submit this proof of damage to your insurance company. If you don't remember to do this before you begin repairs, your insurance company may resist paying for the damages, up to and including denying your claim.
Next, check that your roof is structurally sound enough to hold weight. If you notice any sagging, avoid walking on the roof; only perform any repairs that you can safely complete from atop a ladder set next to your roof.
2. Gather Your Materials
Order a new bundle of shingles to use for your repairs. If possible, order matching shingles to those you already have on the roof to make the repair spots less obvious from the ground. While weathered shingles will be a different color than new ones, you should be able to get a pretty close match to the color and pattern of the shingles already on your roof.
You'll also need to buy proper fasteners for your type of shingles. Check the shingles on your roof to see if they're attached with roofing nails or with adhesive strips; whichever it is, order enough to use for the new shingles, plus some extras.
In addition to purchasing new shingles and fastening materials, collect or purchase the following equipment:
Gloves

Eye protection

Sturdy work boots

Ladder

Utility knife

Pry bar

Hammer
Finally, you'll also want a friend to help you complete the repairs. Choose someone who is able to hold your ladder steady and help you in case anything goes wrong.
3. Wait for Clear Weather Conditions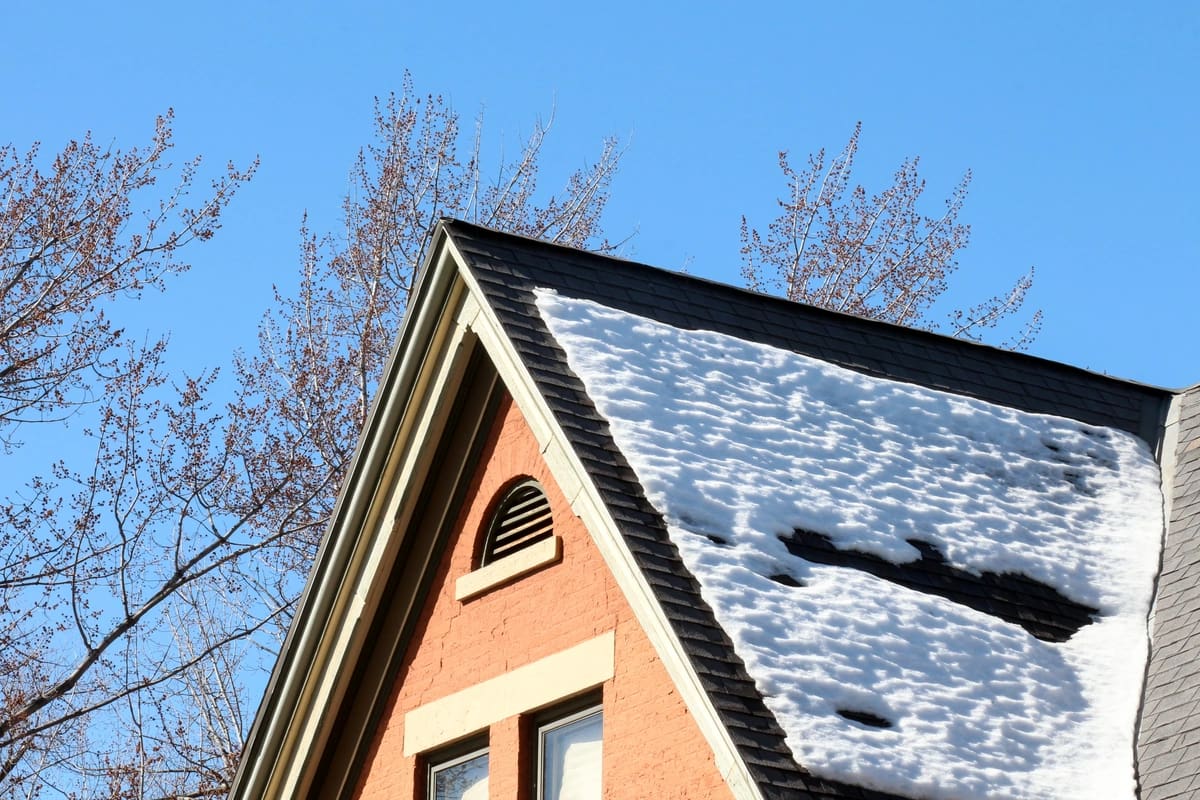 Never climb on your roof when conditions are wet, windy, or actively precipitating. At a bare minimum, wait for all stormy conditions to subside. If you can, wait to do your project until your roof has dried completely.
4. Clear the Damaged Roof Shingles
Have your friend hold the bottom of the ladder and carefully climb to the area where your shingles have blown off. At the site of the damage, see whether any remnants of the blown-off shingles remain.
If they do, use your pry bar to remove the remaining materials. Then, remove all remaining nails. Depending on how your shingles were installed, you may need to also remove the bottom nails from the row of shingles above the row that you'll be replacing.
It's important not to install new shingles on top of old nails, as the existing nails will damage the new shingles from underneath.
5. Install New Roof Shingles
Once you've cleared the area, start installing your new shingles. If you have 3-tab shingles on your roof, you may need to use a utility knife to cut a single tab and use that to individually replace the missing shingles. If you'd rather not lay down one shingle at a time, you can also remove enough shingles to lay down the entire new piece of material.
Carefully lift the bottom edge of the shingles immediately above the row you're replacing and line up the nailing strip of the new shingles. Hammer the new nails through the nailing strip. If your shingles are attached using adhesive, place that on the bottom edge of the top row of shingles and secure the shingles down.
Repeat this process for the bottom edge of the new shingles, then continue to the next spot with damaged shingles.
6. Schedule an Appointment With Your Local Contractor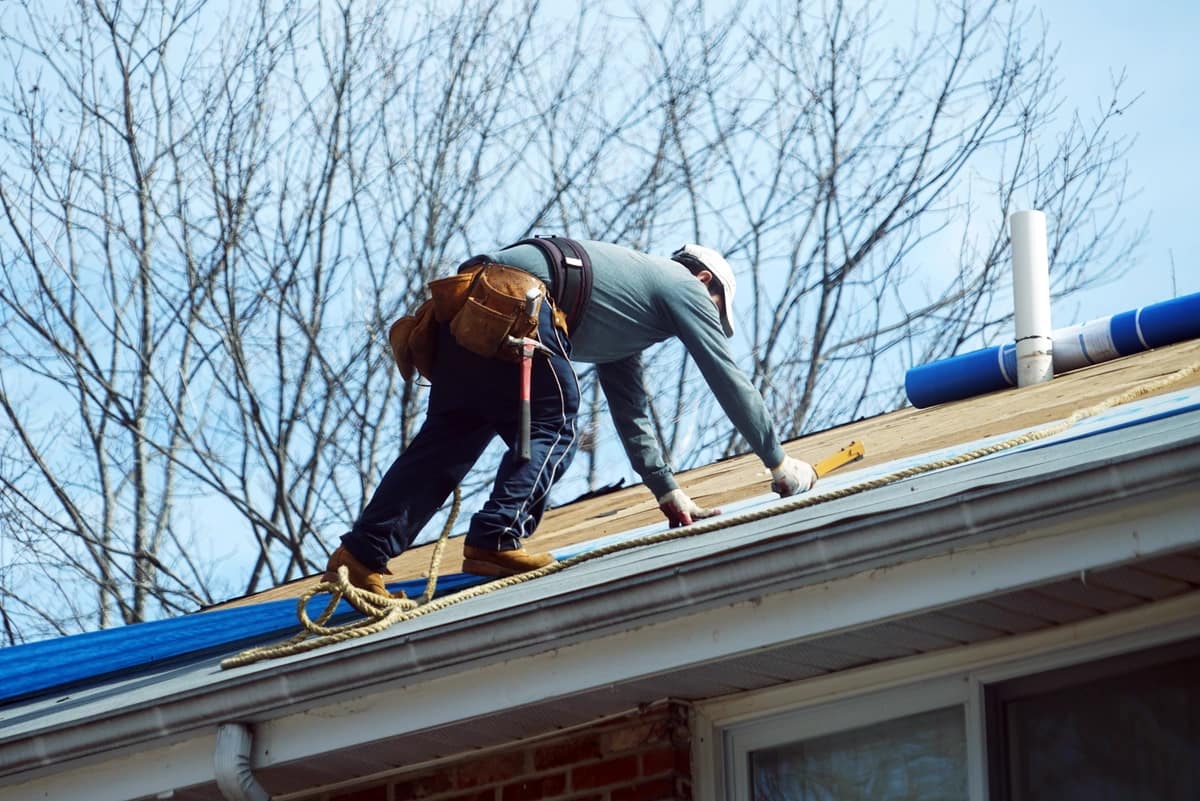 Once your property is safe from immediate damage, connect with a contractor and get on their schedule as soon as you can. Only a licensed, professional roofing contractor can adequately assess your roof for storm damage and let you know if further repairs are required.
Faulty installation can lead to a host of other problems for your roof, so even if you think you won't need additional repairs beyond the shingles you replaced, most roofers will be happy to perform a roof inspection and ensure that you've attached the new shingles properly.
Additionally, your roofing company can be immensely helpful when your roof damage isn't a result of storms. If your shingles blew off because of poor installation or lack of curing time for shingles with adhesive strips, the initial contractor you worked with for the roof should perform the repairs at no cost to you.
How to Repair Blown-Off Roof Shingles: Give GreenTek a Call
Following these steps when your roof shingles have blown off will help you avoid roof leaks and lasting damage to your underlayment and roof deck. However, for complete storm damage repair, only working with a professional contractor will do.
GreenTek Roofing and Solar is just the contractor for the job. We'll provide you with a free detailed inspection, and our estimates are as accurate as they come. We'll complete the work promptly, and we won't rest until you're completely satisfied with our work.
Ready to learn more bout what we do? Reach out to schedule an appointment today!